Cellulose Insulation Slowed Canada Condominium Fire
.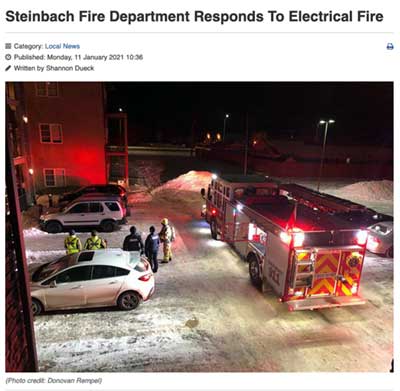 Fires in any dwelling can be dangerous to occupants and lead to extensive damage and even total property loss. In condominiums and other types of attached dwellings the spread of fire to adjacent units can be even more destructive and affect many families. Having a building insulation product that can help minimize flame spread is critical in these buildings.
A recent news story from the city of Steinbach in Manatoba, Canada offers a good example of the important role cellulose insulation can play in condominium fires. The local fire department responded at the condo due to an electrical fire. According to the local fire chief, the fire was contained to one unit in the building and was extinguished by the department around 1 am. The department was called back again around 5 am to remove smoldering cellulose insulation.
This is another great example of cellulose insulation at work to slow the spread of fire in a residential building. The Class 1 Fire rated building product is designed to smolder when coming into contact with fire and reduce the spread of the flames. The affected insulation can then be removed allowing the remaining areas of the building to be repaired as required.
CIMA recognizes the Steinbach Fire Department and Chief Kel Toews for understanding the process of removing the affected cellulose insulation.