Cellulose Answer Man: Your Source For Information.

Sam asks:
Are calculations of thickness for the depth just after installation or after it has settled for 3-4 years as mine has. Original depth was 16 inches, now it is about 12 " so what is the true R-value?
Answer: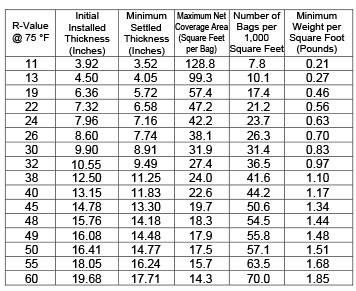 Thanks for your question. Like all loose fill insulation coverage charts, cellulose insulation coverage charts have both settled thickness and installed thickness columns (see example to left.) Installed thickness is determined by ASTM C1374. Settled thickness is determined by laboratories using methodology consistent with the Federal Trade Commission R-Value Rule (16 CFR Part 460). R-values in cellulose insulation are based on settled thickness and bag count, not installed thickness. There are no such things as a standard coverage chart or R-factor for any insulation material, but for cellulose it would be reasonable to assume an R-factor of 3.8. For the installation level you mentioned that would amount to about R45 – R46.